Family barbeques. Lazy afternoons by the pool. Evening gatherings around the fire pit. If you're dreaming of all the splendid ways to spend time outdoors at your house, then a deck is likely part of those dreams. So what material should you choose for your deck? Before starting this home improvement project, you start by doing some research. This article will help you decide on decking options and if a wood alternative is right for you.

Stats via Principia
Advancements in Alternative Decking Options
Why have human-made decking materials become so popular in recent years? The durability, authentic look, hassle-free care, and reliable warranties of composite decks are just some of the top reasons.
Twenty years ago, plastic decking did not provide the look of the natural wood grain. Manufacturers have come a long way in the past two decades.
With today's advanced technology, companies like AZEK, Trex, and TimberTech have created decking products that capture the natural look and feel of real wood.
PVC decking is 100% plastic and contains no wood fibers. Therefore, PVC is available in a broad assortment of colors and grain options. PVC options are backed by fade and stain resistant warranties, giving you long-term peace of mind.
The Natural Looking, Easy Maintenance Decking Option
A capped composite comes at a lower price but still offers low maintenance and a natural look. Capped composite is 95% recycled materials consisting of wood flour and plastic, mixed with a thin veneer of PVC-like material wrapped over it. This durable product comes with enhanced scratch, stain, and fade-resistant properties.
Trex was the first company to combine the durability of recycled plastic with the natural beauty of reclaimed wood in a high-performance decking product. They offer a long-term fade and stain warranty plus a multi-year limited residential warranty. Premium tropical tones, plus the classic natural color offerings from Trex, are eye-catching, durable, and only require soap and water maintenance.
Creative Designs and Colors
A deck you do not need to stain or paint allows for unique color customizations. Blending colors, widths, and patterns have become the modern decking style. This style is made possible by composite decking.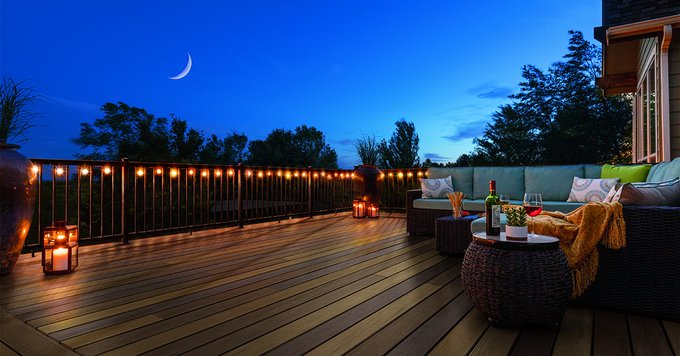 Your Next Steps
We invite you to visit a Harvey Product Showroom and look at samples of decking materials in a variety of colors and options. Also, our knowledgeable staff can help answer any questions you might have and show you some complementary railing options as well.
Use the Harvey ProZone to find, compare, and get quotes from deck experts in your area.